If you are frowning when I say Las Vegas and teenager together, I can't say I blame you. Las Vegas is called Sin City, and you don't expect that it will be any different for teenagers.
But hey, let's take a moment to go through this post, and you will see exactly how Vegas can be for teenagers too!
The fact is, though the casinos cater to adults, there are hotels in Vegas that are extremely family-oriented and teen-friendly. They have teen and kid-oriented sections as well, and activities to keep all members of the family busy.
Don't believe me. Look through the list!
We here give you 7 of the best hotels in Vegas for teenagers, with two special mentions.
01. The Mirage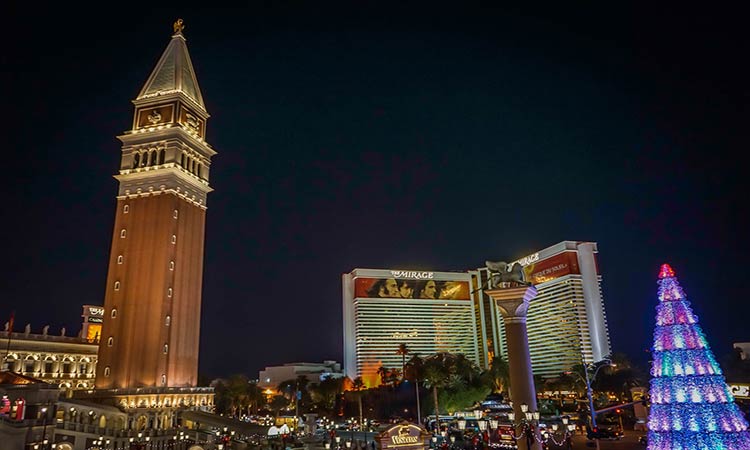 The Vegas Strip would not be complete without The Mirage, which is one of the best teenager friendly hotels in Las Vegas.
Firstly, the rooms.
There are guest rooms and suites to choose from.
The suites include separate living and dining rooms, and heavenly showers. The guest rooms are also spacious, with blinds that block out the world. The flatscreen TVs let in only that part of the world which you want to see and hear with the Bluetooth speakers.
If you deign to go out of your rooms at all, the hotel's wonders really begin. The top-class spa is the least of them, with a separate steam room, lounge, sauna, and hot tub. You can avail a range of spa treatments here.
But the real attractions are the Cirque du Soleil shows, the Dolphin Habitat, the Secret Garden, and the family-friendly pool.
Cirque du Soleil shows are part of the live entertainment at The Mirage, along with comedy night and puppet shows. Teens and even younger kids are sure to be entranced by them.
The Dolphin Habitat is a marine life attraction managed by the famous Siegfried and Roy, and the Secret Garden is for the whole family to relax in.
02. The Venetian
Across the road from The Mirage is the little slice of Europe catering to the most romantic of all ages- the teenage, of course!
The hotel is built to remind you of the City of Canals, with blue canals that run throughout the hotel and gondolas for you to travel. There are Italian style luxury guest rooms, with all amenities that a family may ever want.
And, like Venice itself, there are gorgeous meeting places, fanning the budding romances of teenagers and the matured ones of their parents!
If all these make you forget that you are in Sin City, don't fret.
The Venetian's 20+ restaurants connect to an additional 11 restaurants of a sister hotel, The Palazzo, via an indoor shopping area. Here you can buy all that you can buy from Vegas, and if tired, rejuvenate yourself as well!
The Arcade, the 5-acre rooftop pool deck, and the best of all, Madame Tussauds Wax Museum, combined with all the amazing things already mentioned, will make this Vegas trip a memorable one for your teenage daughter or son.
03. Stratosphere, Las Vegas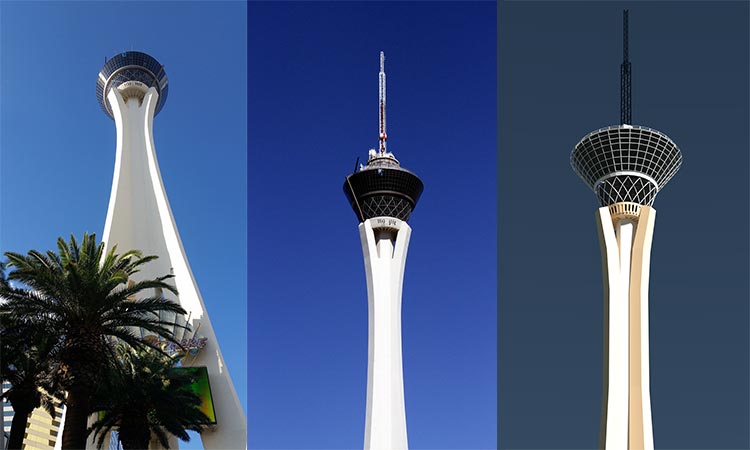 It has been renamed the STRAT Hotel, Casino and SkyPod, but we like the old name better. Imagine being on the tallest freestanding observation tower in the entire USA, and you have it right here with the Stratosphere SkyPod Tower.
So here's what you get at Stratosphere, Las Vegas: providing an all-round view of the Las Vegas Valley, the 108th floor has an indoor observation deck with food outlets and stairs leading up to the 109th-floor outdoor observation deck.
The tower features a restaurant appropriately called Top of the World, revolving around like a turntable to give 360-degree views of the Valley to its diners.
But let's hear it for the teens: five insane rides, one of them even named Insanity. Insanity dangles the riders over the tower's edge while spinning around at nearly 40 miles per hour!
With SkyJump Las Vegas, the riders who are attached to high-speed descent wire jump nearly 885 ft in a controlled-descent Bungee-jumping.
The X-Scream and Big Shot are no less fun, nor any less scary than the other rides. All of these rides are 100% fail-proof and engineered to shut down at the slightest possibility of mishap.
This, coupled with the shopping arena in the STRAT hotel, lets parents off of parental duty for a little while as the family vacations in Vegas.
04. Mandalay Bay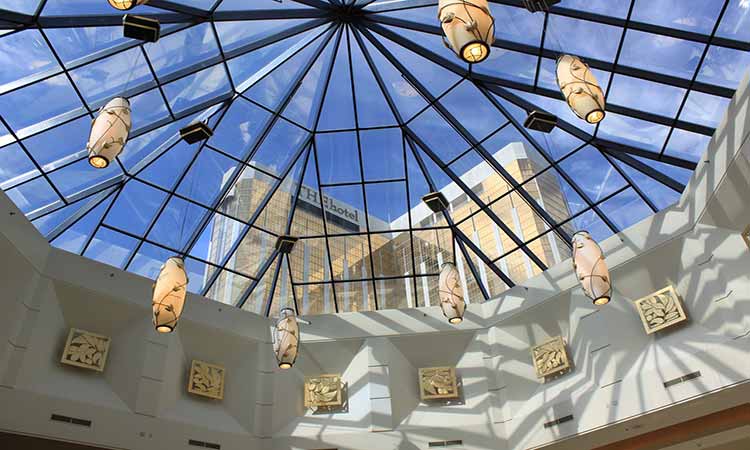 Mandalay Bay Hotel, Las Vegas, has got 11 acres of man-made beaches as a pool area, with golden sands to relax on. Apart from the 3 heated pools, there is a wave pool that can hit you with 6-feet waves and a characteristically lazy river with a waterfall.
After the Mandalay Bay pool area, teens will be fascinated with The Shoppes, which features a 310-feet tall sky bridge. Lots of shopping is certain to make you hungry, which is when you can head to the two dozen hotels that the Bay offers.
But the Bay is more than shopping and sunbathing–it also includes an aquarium called The Shark Reef. This is one of those walk-through tunneling underwater aquarium experiences that none in the family would be able to forget.
Sharks and stingrays and all manner of fishes are going to be around you across a glass barrier–it will be like you have been snorkeling, without the added weight of equipment!
For the teens who like to stay fit or try their hand at golf, there is a well-equipped gym and a golf course as well.
Special Mention–Golden Nugget: You can get a Shark Tank tour at Golden Nugget. This Tank is an unimaginably huge aquarium, around which you can also go on water slides.
05. New York-New York Hotel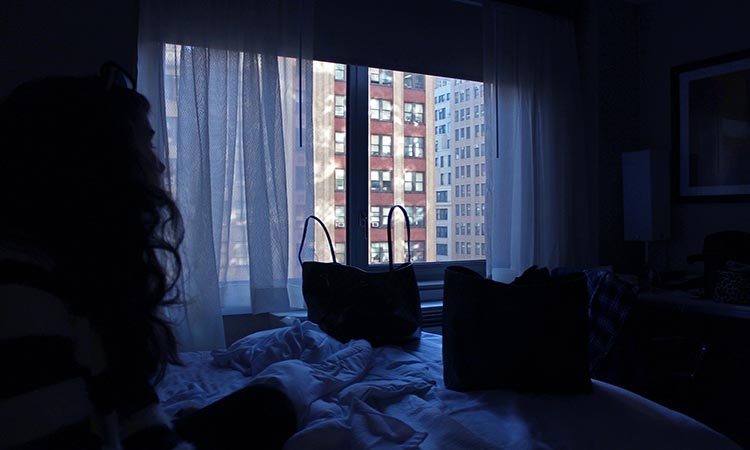 Like Venice with The Venetian, the NY-NY is a little slice of the Big Apple in the heart of the Nevada Desert.
Outside its doors, greeting you will be a sized-down replica of the Statue of Liberty, and the Manhattan high rises. Inside, rooms are ready for the family that comes in 3 or 4, or more.
The Big Apple Coaster is an excitingly scary roller-coaster ride, sure to attract the teen members of the family.
A dozen restaurants serve inside NY-NY, and to attract younger kids, there is the Hershey's Chocolate World.
An arcade offers huge gaming options for all ages, while the resort pool is primed for the parents who may want to go for a swim to unwind.
06. Circus Circus Hotel
Maybe you expected this hotel to feature early, but we reserved it because it has that special blend of casino and theme park vibe. It sits behind the Adventuredome, for Heaven's sake!

That is why Circus Circus is perfect for teens who like the old-fashioned carnival feel. Above the casino, there is a floor full of carnival games with trapeze artists performing overhead.
And if you ever do get tired of the games, just skip around to the Adventuredome, where a whole new set of gaming opportunities await–from roller coasters to laser tag arenas, and arcades to log flume rides, you won't get bored, even if you get tired!
There is even a golf course in there, so all fun and no work, and merry times with Circus Circus, Las Vegas!
07. Desert Rose Resort
About one and a half miles away from the busiest parts of the city, the Desert Rose is one of the best family resorts outside of Las Vegas' famous Strip.
This allows you the freedom to choose when to dip your toe in the glamour that is Vegas, allowing the less outgoing teens the downtime that they so desperately need.
Being a Wyndham property, these have condo-style 1 and 2 bedroom suites, with a hotel swimming pool, costing you a mere fraction of what you would pay at a Strip hotel.
Special Mention: Red Rock Casino Resort — While Red Rock is certainly a casino resort, it is also closer to the Red Rock Canyon, providing exciting opportunities.
For the active teen who doesn't want to be in crowds, hiking and riding horseback through the adjacent land is up for grabs. For the younger ones, there are the KidsQuests' Programme, a bowling alley, and a movie theatre.
Should you choose to tick Hawaii off your travel checklist next, don't miss our thorough guide to the best Hawaii Islands suitable for teens.
Wrap Up
Isn't it just cool that you can go to Las Vegas with your whole family, and have a good time with no worries about losing your young ones?
Did it surprise you that Vegas hotels are very family-oriented, and Sin City has more to offer than nightlife and casinos?
There is a lot of cool stuff in Vegas, and we will be happy to see it lose some of the stigma that keeps families from vacationing there. For that reason, this post was really heartwarming to write.
There needn't be any worry if you decide that, after all, Las Vegas is like any other city. It is, we assure you.
We would love it if our post helped you choose the right family-friendly suite from one of the best hotels for teens in Las Vegas.
Happy holidays!