Nutrition is an important part of adolescence and even more when a teenager is an active athlete.
A balanced diet is crucial for the young athlete's growth and activity. Both macronutrients and micronutrients must be provided to ensure that they have the fuel they require to train themselves.
Being into sports naturally means that the child will require enough energy before practice and feel hungry after it. Thus, having the right kind of foods that are energy-boosting and replenishing is crucial.
Unsuitable foods will only curb their true potential. It will fill them up fast without supplying the body with the adequate nutrition that it needs for top-notch athletic performance. A good teenage athlete meal plan thus becomes a necessity.
Basic nutrition is suitable for growth, energy, and good health. But sports nutrition enhances one's athletic performance by diminishing the risk of diseases, fatigue, and injury.
A good diet also helps young sportspersons to recover quicker and optimize training.
What Makes a Balanced Diet for a Young Athlete
"Teen athletes have a demanding need for a balanced diet because their body is not only growing like everyone else's but also requires fuel to replenish energy more often.
Giving the right food will ensure that their bones and muscles become strong and less prone to injury."

Patricia Leghorn, Nutrition expert
Although there's no rule of thumb as nutrient needs depend upon a lot of factors like sport, the intensity of practice, body size, age, and goals, nevertheless, a teen athlete must eat five or six meals in a day.
And all of them must have a balance of lean protein, healthy fat, complex carbs, fruits, and vegetables.
They should also be eating every three hours and following a proper regime of sleep. If the sleep cycle gets disrupted or erratic, it affects the diet heavily leading to weak muscles, digestive problems, and accumulation of fat.
People often think that a good diet is synonymous with a restrictive diet. But that's not the case, especially for teenagers who need all the nutrition for growth, development, and maturation.
At this age, the body burns calories fast, and thus cutting out fat and carbs will only lead to fatigue and malnutrition. A good diet that comprises everything can help young people achieve a positive body image.
Being said that, it just also be noted that a young athlete need not give up on foods that he/she enjoys having but it's important that they have those in moderation or substitute it with a healthier and more nutritious version.
Related post:
How Much Fluid Does the Body Need?
Intake of fluids, especially water, can determine athletic performance to a great extent. The amount of fluid a young athlete requires depends on several factors like age and body size.
As a rule of thumb, an athlete should consume 13ml/kg while exercising and 4ml/kg after it. The table below will give you an estimate of fluid intake depending on the weight of the athlete.
For events restricted to a time limit of an hour, plain water is sufficient but for events longer than 60 mins or taking place in a hot and humid climate, one may opt for sports drinks that contain 6% carbs and up to 30mEq/L of sodium chloride.
It will help the body replenish its energy store.
Daily fluid intake for young athletes summarized below:
| | | |
| --- | --- | --- |
| Body Weight (kg) | Fluid replacement during exercise (mL/h) | Fluid replacement after exercise (mL/h) |
| 25 | 325 | 100 |
| 30 | 390 | 120 |
| 35 | 455 | 140 |
| 40 | 520 | 160 |
| 45 | 585 | 180 |
| 50 | 650 | 200 |
| 55 | 715 | 220 |
| 60 | 780 | 240 |
Source: Rowland T. fluid replacement requirements for child athletes. Sports Med. 2011
Some Important Food Habits for Teenage Athletes
Opt for lean protein and low-fat dairy instead of full fat. This will leave room for healthier fats in your plan.
Shun the Keto plan as sports will require energy, and carbs are a great source of energy for they fulfill your body's immediate energy needs. Replacing carbs with fats for energy does not work well for strenuous physical training.
Cut down on junk food and packaged foods. Try to refrain from anything that has preservatives in it. Go for fresh juice instead of canned ones. If you are running late, grab a fruit and have it on the way.
Prepare a chart and follow it.
Get adequate sleep and rest.
Water is as important as any other element in your diet. Sports involve heavy sweating so stay hydrated and keep shuffling your fluid options.
Do not exercise or practice empty stomachs.
Nutrition Requirement of a Teenage Athlete in a Day:
| | | |
| --- | --- | --- |
| | Serving recommendation | Sources |
| Complex Carbs | 360-500 gms | Whole grains, beans, nuts, and other high-starch foods like corn, cereal. Oats, quinoa, crackers and rice. |
| Lean protein | 46-52 gms | White-fleshed fish, white-meat poultry, lite tofu, lean beef, pork loin, shrimp, egg whites, |
| Vegetables | 3 to 5 servings | Sweet potatoes, beets, spinach, and other green vegetables |
| Fruits | 2 to 4 servings | Bananas, tart cherries, oranges, guava, apple, etc. |
| Healthy fats | 65 to 100 gms | Coldwater fish like trout, tuna and salmon, olive, nuts, seed, canola oils |
| Dairy products | 400 gms of milk, 50 to 80 gms of cheese, yogurt, etc. | Low fat cottage cheese, milk, and yogurt. |
However, one must remember that these serving recommendations are an approximate evaluation and a lot of it will depend on the body type of the athlete. Make sure you consider an individual's BMI before sketching the final teenage athlete meal plan for an individual. Also, exclude any item that might trigger allergies. Substitute it (or those) with other options.
Foods to avoid
Besides having the right kind of food, avoiding the ones that can cause inconveniences is also crucial.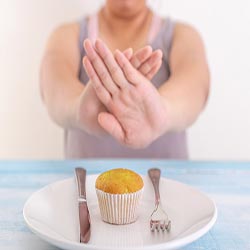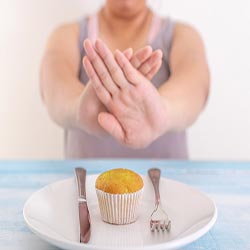 Limit your intake of sports drinks. Substitute it with water, glucose, and fresh vegetable and fruit juices as much as you can. Consume energy drinks only when practicing.
Avoid trans and saturated fats
Consume limited fiber
Avoid fried foods and canned sodas
Stay away from caffeine as much as possible as it can dehydrate your body
Include limited sodium in your diet
Key to Making the Right Teenage Athlete Meal Plan
Having the right food alone is not enough if you want the best results, a systematic charting of its distribution keeping in mind the gender, time and span of activity, and other such factors.
Assort the Right Food
Creating the right plate is one of the most important aspects. Put together a variety of nutrients for nourishment that the teenage athlete's body needs.
Since the adolescent is still in his/her growth period, protein becomes one of the major ingredients of nourishment.
Make sure the meal consists of adequate protein from either animal sources or plant sources. It repairs tissues and muscles in the body, regulates hormones, and boosts the immune system.
Fat is essential to ensure that your body is absorbing minerals and vitamins. It is also a reserve of energy while carbs provide the most immediate energy.
Do not munch unhealthy foods in between meals. Instead, opt for a colorful plate of veggies and fruits of your choice or other healthy snacking items.
Fruits and veggies are an important part of the meal. They make up for the mineral and vitamin content the body needs.
They are filling and offer your body the fiber it needs. They provide fiber, B vitamins, folate, Vitamin C, water, antioxidants, potassium, and other micronutrients.
Keep your body hydrated at all times. Water is your best friend on and off the field. Fluids transport nutrients and oxygen to different parts of the body. It also minimizes muscle and joint pain allowing you to practice more without straining your body too much.
Recovery foods like carbs and protein should be consumed within half an hour of training or workout and again within a couple of hours of exercise. This will aid the muscles in reloading with glycogen and allow proper recovery
Set Your Meal Time According to Your Training Time
Regulating your nutrient timing according to your training times helps you retain energy throughout your training along with sustaining your ability to think. It also gives maximum support to your muscles, decreasing the risk of injury and improves recovery.
It is recommended to eat a full-sized meal two or three houses before any intense activity. One can fill the gaps with snack-sized portions or protein bars, smoothies, or veggies.
Right after training, the body requires replenishment and thus carbs and glucose are good options. Include a small amount of protein for rebuilding.
Make sure you also consume enough fluids while on training and well after it. If drinking water alone becomes boring, it can be switched with fruit juices, energy drinks, glucose, etc.
Plan According to the Gender of the Young Athlete
How the Two Sexes and Their Nutritional Needs Different
Right from the time of puberty, the body's need for nutrients and growth behavior changes per sex.
Men have an increased level of testosterone after puberty and thus they tend to have larger muscle mass and fibers along with a low body fat percentage. They also have a higher VO2 max genetically. Studies show that women have more body fat ( 6 to 11 percent) than men due to estrogen that increases a woman's ability for fat storage that can be helpful in childbearing.
A diet, thus largely depends on the sex of the athlete. A meal plan for an active teenage girl should ideally have less fat than men as women tend to burn fat slower and rely more on carbs for energy.
This, however, does not mean that a female teenager will panic and banish fat completely from the plate. It must be consumed in moderation.
Nutrient Intake
Before we progress into a neutral teenage athlete meal plan, let us roughly glance at how nutrient requirements differ in both sexes. This will give us a fair idea in the later stages and practical implementations.
Iron: Iron is crucial for an intense physical workout for it transports oxygen from the lungs to the muscles. Due to menstruation, women naturally need more iron intake than men.
Teenage male: 8 mg/day
Teenage female: 18 mg/day
While iron supplements can be a way to go, it is always better to rely on natural sources like peanut butter, tuna, shrimp, eggs, beef, dark green leafy veggies.
Calcium and vitamin D: Women need more calcium for they are at a greater risk of osteoporosis and bone loss.
Teenage male: 1000 to 1300 mg/day
Teenage female: 1000 to 1500 mg/day
Dairy is the best source of calcium but one must opt for a low-fat variant of milk, cottage cheese, and yogurt.
Both males and females must consume around 200 IU/day of vitamin D. Sunlight is a source of vitamin D but there are foods like cheese, fatty fish, and egg yolks that work as well.
Calorie requirement: a meal plan for a teenage male athlete to gain muscle should contain a daily intake of 2,800 to 3,200 calories whereas the same for women should be somewhere around 2,400 calories.
The calories needed also depend on the intensity of their activity. It may go up to 3,000 calories for women and 4,000 for men if they are engaged in extra strenuous training. However, the gap always remains.
Planning Your Meal
Preparing a 7-day meal plan for athletes in advance assures that you include all the nutrients obtained from different sources.
That will not only make the meal nutritionally adequate but also appealing to the taste. It also ensures that you have all food items stocked in your pantry and if not, it gives you time to go fetch them from the supermarket.
Keep your meal simple and more so if you are a beginner. Make sure you have easy access to food items in your chart.
For eg. do not include an exotic fruit that is not easy to get from the local supermarket. Try to replace it with a more attainable alternative.
No matter how simple you wish to keep your meal, you will have to spend some time in the kitchen. Try to set aside time for the kitchen to manage all things competently.
The Truth About Sports Supplements
Sports supplements are very tempting for they rescue one from the hassle of charting an athlete meal plan weekly but are they worth it?
To begin with, teenagers are in their growing age and thus the body's reception to nutrition and activity is the best, thus it is almost unnecessary to indulge in supplements at a young age.
It may seem like a viable shortcut but does not work for all. Although Anabolic steroids claim to better performance, they can have some severe side effects like:
Causes hormonal disbalance and can trigger a plethora of complications.
May cause baldness and testicular shrinkage in men
Growth of facial hair in girls.
Irregularity of periods and infertility
Depression
Digestive issues
Nausea, cramps, vomiting, seizure
You do not want to subject a healthy body to such complications. That is why it is best to rely on a good diet for strength and capacity.
Breakfast Ideas
Why Is Breakfast Important?
Breakfast is undoubtedly the most important meal of the day. It gets your body going and thus one must never skip it.
Breakfast offers a host of nutrients to young athletes that they require for bone growth, muscle development, and repair. It also prepares the body for activity and helps them deal with fatigue.
Skipping on breakfast not only means important nutrients will be compromised but also results in weight gain. Practicing on an empty stomach will curb their potential and make them feel famished afterward.
This can lead to excessive consumption of food, which again can adversely affect the body. At the same time, it is also important that they have the right food for breakfast and not fill their stomachs just for its sake.
Let us then look at some of the healthiest options you can make your pick from:
Whole grain bread with eggs and a fruit
Mashed potatoes, fried eggs, and sprouts
Chia pudding, cheese, and toast
Chia and flax seeds soaked overnight in oatmeal and yogurt, hard-boiled eggs
Avocado toast with eggs
Spinach tortilla wrap, fruits
Chicken sausage and whole-grain toast
Banana, milk, and low-fat cheese sandwich
Peanut butter and chia seeds toast, a glass of warm milk
Yogurt smoothie with your favorite fruit and berries
Granola and sliced up berries and fruits in milk
Whole grain toast, a slice of ham, and a glass of milk
Low fat cottage cheese and a whole-grain tortilla
Quinoa and veggies
Savory oatmeal with an egg
Related Post:
What Should Teenagers Eat for Breakfast
Intermediate Snack Ideas Part 1
What Kind of snacks should you have after a workout?
After a workout, your body requires replenishment and energy. Thus, it is the perfect time to introduce healthy fats to your meal. However, do so in moderate quantities along with a fruit, vegetable, or something similar. In the list below, we have itemized certain foods which work great as an intermediate snack as they do not furnish you completely but replenish the body from fatigue.
Mixed nuts and berries
Apple slices with peanut butter
Celery sticks with cream cheese cucumber slices with hummus
Any fruit of your choice
Hard-boiled eggs
Baby carrots
Whole-grain crackers
Granola protein bars
Sweet potato and black bean
Kale chips
Lunch Ideas
What Nutrients Should You Lunch Ideally Have?
After breakfast, lunch is the most important because you indulge in the most filling meal of the day. It gives you a chance of incorporating most nutrients.
Thus, lunch must comprise of all food groups- lean protein, complex carbs, healthy fat, fruit or a vegetable (or maybe both)
Tuna sandwich with pickles, olive oil mayo, mustard on whole wheat bread with an apple, and spinach on the side.
Pork tenderloin with a small serving of quinoa with cherry tomatoes and a banana
Grilled chicken steak with assorted veggies and mashed potatoes
Turkey wrap with avocado, spinach, cucumber, and grapes.
Cottage cheese/ tofu with salad greens with olive oil dressing and seeds, black beans
Rice bowl with beans, mixed veggies, low-fat cottage cheese/ chicken
Pasta with meatballs, cheese, and veggies
Vegetable pizza on whole wheat bread with carrots, celery, and a bowl of fruits
Teriyaki chicken bowl with brown rice accompanied by fresh veggies and fruits
Grilled salmon and Greek salad
You Might Also Like To Read:
Intermediate Snack Ideas Part 2
Now we shall talk about planning what to eat between lunch and dinner. You can either break this down into two parts or keep it as one depending on your activity schedule.
An active athlete can have two to three snacks in a day. Let us go through some of the healthy snacks you can opt for:
Peanut butter and jelly chia pudding
Cheese, egg muffins, and veggies
Chickpea and feta salad
Chicken and vegetable salad
Trail mix
Banana oatmeal muffins
Green smoothie
Crackers or pretzels and peanut butter
Yogurt with granola and raisins
Half a turkey sandwich
Dinner Ideas
Dinner must not be heavy but have sufficient nutrients. Especially if you are having your dinner post-workout, make sure that you include a good portion of carbs and protein to refuel the body.
Here we have compiled certain ideas for your convenience in meal planning:
Beef burritos
Shredded turkey or chicken tacos with sauteed veggies
Chicken, bean sauce, and brown rice
Salmon, brown rice, and leafy greens
Whole wheat pasta with meatballs and mushrooms
Asian beef bowl
Thai chicken and steamed rice with a bowl of cooked veggies
Chicken bowl with Japanese potato salad
Pesto baked chicken with asparagus
Pork steak with mashed potatoes and peas
Pizza with toppings of your choice (assorted veggies and chicken/ turkey/ pork)
Chicken soup with whole wheat toast or tacos with a cheese spread
Beverages
Staying hydrated is the mantra for every athlete and with the array of choices around us, it may seem like a pretty easy task. But it is not always a cakewalk to find the right drink.
Water is, of course, the best choice but with the amount of fluid a young athlete's body requires, relying solely on it can be tedious.
The supermarket abounds in sports drinks and sodas but are they beneficial for the body? Are you sure that they do not have side effects? We'll investigate that shortly.
Beverages Unsuitable for a Teen Athlete
Sports Drinks: Although sports drinks are not the most harmful and can be had now and then, it's best to refrain from making them a habit. They are beneficial for practicing on a hot and humid day.
However, preservatives and artificial colors are harmful if taken in large quantities. Sports drinks can be had for long practice or on the day of the tournament when the athlete needs all the hydration coupled with vitamins and minerals.
Energy Drinks: Energy drinks are a big no for young athletes. They contain stimulant ingredients such as caffeine, herbals, etc.
These can cause muscle spasms, agitation, sleeping disorders, rapid heartbeat, and anxiety. Moreover, energy drinks are not adequately regulated which entails the risk of contamination with inferior or banned ingredients.
Soda: Soda has everything an athlete must stay away from- refined sugar, caffeine, artificial colors, and further additives. That should speak tons about its credibility as a source of hydration
Suitable beverages
Water: water is the best option for adolescent athletes and a 13 to 15-year-old can stick just to water for hydration.
Coconut water: this too is a natural source and comes with several benefits. So if you are bored with water, switch to this delicious alternative
Milk: Another safe option but one must limit its intake for it can upset the stomach and cause discomfort while training. Milk is more a source of nutrition than hydration.
Fruit Juice: watered-down fruit juice is a great option for athletes. You can use any fruit of your choice and switch, you can choose your favorite fruit and you are good to go.
However, make sure you water it down, for 100% concentrated juice is a source of natural fruit sugar.
A Sample 7 day meal plan for teenage male and female athletes fo FREE. Download and make a print.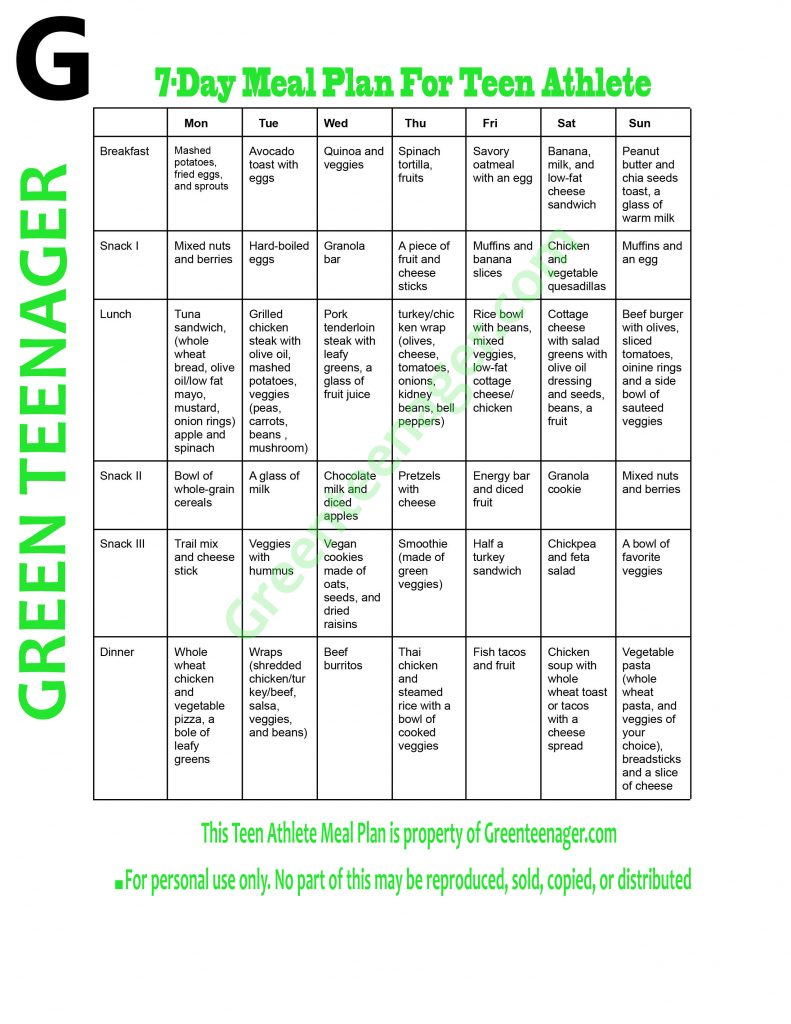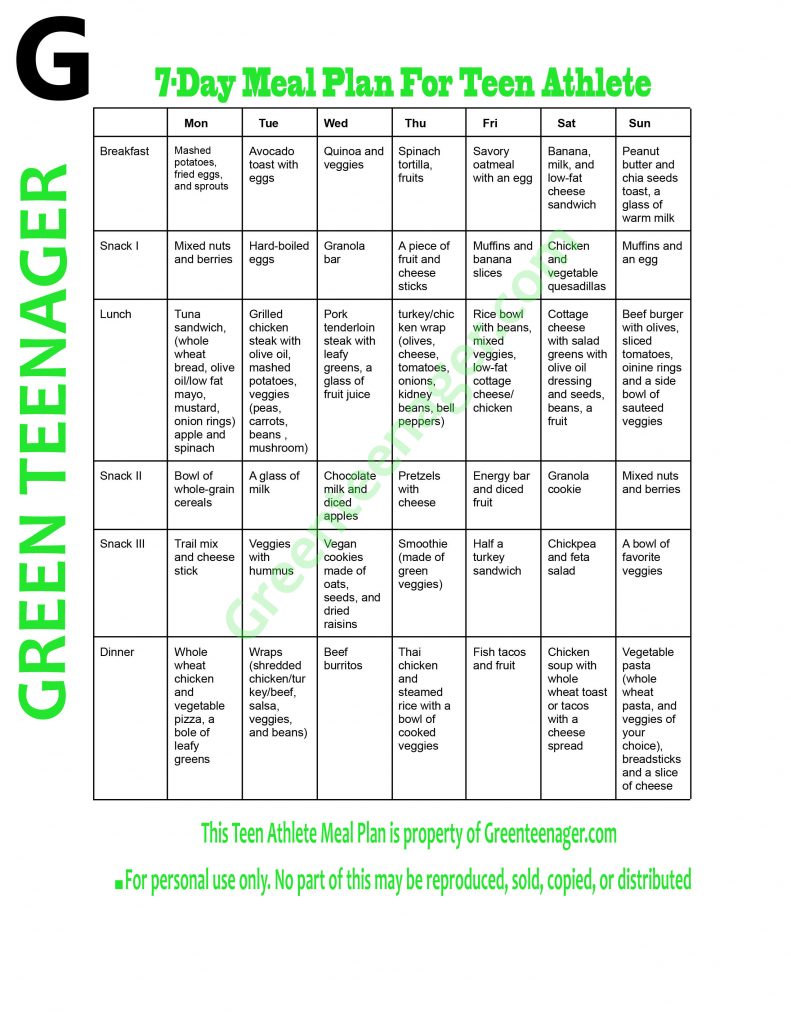 To Summarize:
Teenagers have demanding nutrition needs and more so if he/she is an athlete. Thus, a balanced diet with lean protein, healthy fats, complex carbs and other macro and micronutrients is crucial.
Nutritional needs depend largely on the intensity of the activity, age, body weight and sex of the individual.
Plan the timing of your meals in accordance with your workout schedule.
It's best to stay away from packaged foods, food items that have preservatives and artificial sugar, color and flavour.
Fluids in the right amount and from the right source is what keeps the body going.
Meal planning requires forethought. It is always better to have at hand at least a 3 day meal plan for athletes
Certain nutrition requirements of young males are different from that of the females. When planning meals, this should be kept in mind.
Young athletes should not skip meals or over eat.
Try to stay away from supplements and steroids.